Texas State Aviation has been serving Central Texas for over 20 years. Offering a full range of pilot training.
Hours of Operation:
7 days a week
09:00am to 6:00pm
Texas Aviation offers a full range of rating:
Private Pilot Certificate
Commercial Instrument
Commercial Multi-Engine
Complex Training
Tail-Draggers
Upset/Spin Training
Service Central Texas:
San Antonio
San Marcos
Austin
Buda
Kyle
New Braunfels
We do have after-hours procedures for:
Give us a call (512) 396-2212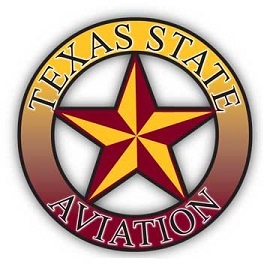 San Marcos airport is not overcrowded, making training & learning radio procedures less stressful and faster.
Less Time on the Ground, More Time in the Air.
G E O G R A P H Y
Near Austin (20 minute drive), the capital of Texas
Near San Antonio (30 minute drive)
1 hour from Dallas or Houston by flight
Near the Gulf of Mexico
F A C I L I T I E S
The Airport:
3 Lighted Runways
1 ILS approach
1 NDB approach
1 VOR DME approach
1 VASI
1 GPS approach
The Hangar:
Space for aircraft, both the school's and privately owned
The Classroom/Office:
Free Computer Access Weather Briefing
Jeppesen, King & ASA audiovisual materials.
Gleim & ASA computer testing materials.
Private through Commercial training
CFI, CFII, and ATP training
Single engine & Multi-engine training

Our aviation courses are also offered through the Austin Community College Continuing Education:
it's time to get registered for class!
Courses:
Private Pilot Ground AIRX 3017 & Flight AIRX 3015
Instrument Rating Ground AIRX 3051 & Flight AIRX 4050
Commercial Pilot Ground AIRX 3037 & Flight AIRX 3039
and more!
Financial Aid – contact Pilot Finance.com or try 'Sallie Mae' Career Student Financing.
Discovery Flight
Come on out, allow us to introduce you to the wonderful world of flying.
Book A Discovery Flight Today!
Fly Baby Fly!
What are you waiting for?
Come on out and experience the thrill of flying!